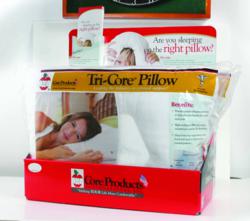 Core Products today announced a 15% off sale on the popular Tri-Core Pillow 3-Pack Display set. The offer is valid until June 30th and includes marketing materials at no extra cost.
Prized for helping to correctly align the spine while supporting natural cervical curve, the Tri-Core Pillow is an excellent choice for pain management professionals looking for a turnkey solution to help their clients suffering headaches and neck pain who are both side and back sleepers.
Each Tri-Core Pillow Display Case includes:
-3 Tri-Core Pillows
-Countertop Display
-Consumer Brochures
-Educational Poster
Chiropractors, Physical Therapists and other professionals in the pain management field are encouraged to contact their favorite distributor before June 30th in order to enjoy 15% savings on the Tri-Core. The Tri-Core Cervical Pillow is a back and side sleeping solution with superior pillow life, carefully designed by Core Products for better sleep.
The Tri-Core 3-Pack Display can also be ordered directly from Core Products by calling 1-800-365-3047, or online at https://www.coreproducts.com/tricoredisplay.
About Core Products International
Founded in 1988, with the vision of making people's lives more comfortable, Core Products International is an American innovator, manufacturer and distributor of professional quality health care products. Core markets and sells its products within the USA and internationally mainly to the professional health care markets. Core manufactures and assembles its products in Osceola and Chetek Wisconsin and is proud to employ American workers. Core's product line includes orthopedic pillows, orthopedic supports and braces, hot and cold therapy products, electric and therapeutic massage products, and electrotherapy devices. For more information, please visithttps://www.coreproducts.com.